College Baseball....more specifically College World Series. Sometime back after leaving high school and heading to college at Lamar University, I fell in love with baseball. I admit it was the boys I was following at first....but at some point, my focus shifted from adoring the seat of their pants to the way the ball sailed across the plate meeting metal with leather then watching the ball make it's way over the shortstop's head to outfield...all the while watching the batter run his ass off to make it a double.
LSU isn't in Omaha...so I'm not as invested to watch BUT (there's always a but in baseball-pun intended) Texas is...no not THAT Texas team....TCU, Frogs, Texas Christian University. It's the last year at Rosenblatt...I'm sad I never got to go before they move it to the new park....but I'll get there one day.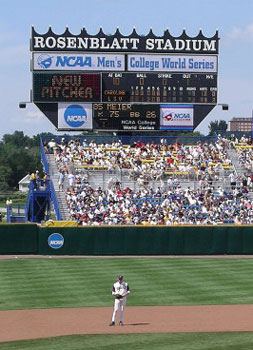 TCU vs UCLA tonight...Top of 7th and the Frogs had a great big ZERO....just seeming to have No chance when Boom. Got one hit and man on First. BoomBOOM Man on 1st and 2nd. BOOOOOOOOOOOOOM. Bases loaded. Unknown player to me...gets up to bat and gets a piece sending it right down the middle out to Centerfield....TRIPLE bringing the score to 5-3. Bottom of the 7th brings a solo home run for the Bruins
Now it's the top of 8th and Frogs are up again. Let's hope the Frogs can pull it off. But there's Double Elimination so the Frogs are still in it even if they lose tonight.
Baseball.....ya gotta LOVE IT!!!