I'll be heading to Houston on Friday for a roadtrip to see the boys play at Minute Maid...I'm not certain of the history but I believe it is the first time for them to play there. I'll be meeting up with Lynn from my original internet friends from the Red Sox Fan Forum and then another poster from the SG board who actually lives in Austin is going to meet up too. A good friend of mine scored some tickets for Sunday....Behind Homeplate, 2nd level, Row 1...Beckett is pitching. I'm sure someone will have to pinch me or throw water on me to make sure I know I'm not dreaming. Stories to follow from the weekend I am sure.
Friday, June 27
Minute Maid Park 8:05 PM ET
Daisuke Matsuzaka, RHP (8-1, 3.46)
Red Sox
(49-32)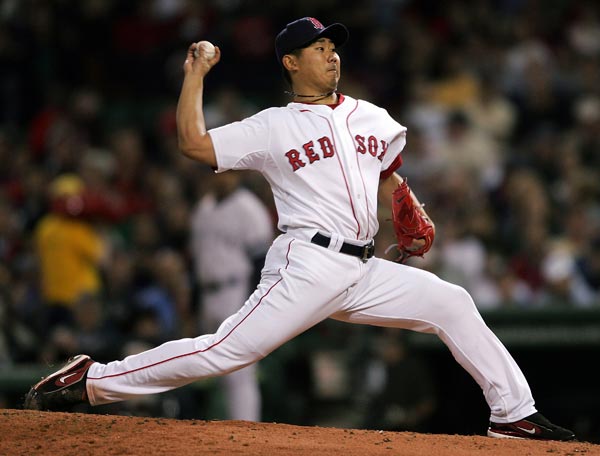 @
Runelvys Hernandez, RHP (0-0, -.--)
Astros
(36-41)
Scouting Report:Red Sox: Matsuzaka came off the 15-day disabled list for his last start against the Cardinals, and he looked nothing like the 8-0 starter that mowed down opposing lineups before suffering a right rotator cuff strain on May 27. Coming into his start against St. Louis, opponents were hitting .195 off the right-hander. But the Cardinals touched him up for four runs and five hits in the first inning alone. He faced 12 batters, leaving without recording an out in the second and giving up seven earned runs.
Astros: Hernandez takes over Shawn Chacon's spot in the rotation and will face the Red Sox Friday at Minute Maid Park. The 30-year-old right-hander is 6-3 with a 3.72 ERA over 15 starts for the Triple-A Round Rock Express this year. He's allowed 35 earned runs over 84 2/3 innings and has allowed 11 home runs. He's issued 23 walks while striking out 63. Opponents are hitting .233 against him. Hernandez has made two career starts against the Red Sox, taking no-decisions in both. He has a 4.85 ERA over those two games, having allowed seven earned runs over 13 innings. His last outing versus Boston occurred on Aug. 10, 2006.
Saturday, June 28
Minute Maid Park 7:05 PM ET
Jon Lester, LHP (6-3, 3.13)
Red Sox
(49-32)
@
Brandon Backe, RHP (5-8, 4.82)
Astros
(36-41)
Scouting Report:Red Sox: Lester is becoming one stingy innings-eater for the Boston Red Sox. In the month of June, he hasn't given up more than two runs in any outing while at least pitching into the seventh inning in all four starts. He's 5-1 since the beginning of May, and the Sox have won each of the five outings he's pitched in since May 31.
Astros: Backe earned his first win in a month when he beat the Rays in his last outing. The right-hander yielded a two-run homer to Evan Longoria in the second inning but held the Rays scoreless through the remainder of his 6 2/3 innings. Backe has appeared in four games against the Red Sox, all in relief. He has allowed eight runs over 5 1/3 innings for a 13.50 ERA.
Sunday, June 29
Minute Maid Park 2:05 PM ET
Josh Beckett, RHP (7-5, 3.73)
Red Sox
(49-32)
@
Brian Moehler, RHP (4-3, 4.03)
Astros
(36-41)
Scouting Report:Red Sox: Beckett has allowed just two runs in his last two starts, against Arizona and Cincinnati, logging 15 innings in the process. Unfortunately for Beckett, his last outing, against the D-backs, went to waste when the Red Sox ran into Dan Haren, dropping a 2-1 decision at Fenway Park. Beckett is 2-2 lifetime against Houston and owns a 2.92 career ERA at Minute Maid Park.
Astros: Moehler has been the most reliable arm since joining the rotation. Counting his impressive performance against Texas on Tuesday night -- 6 1/3 innings, one run allowed on five hits -- the Astros are 5-4 in Moehler's nine starts but could easily be 7-2. Moehler is 4-3 with a 4.03 ERA. The 36-year-old right-hander is 4-2 with a 4.01 ERA in eight career starts against Boston.